Posted 21st November 2021
Covid-19 Update – belated!
Apologies for not keeping this part of the website updated for a while. As all our members will be aware, following the lifting of national restrictions earlier this year, there are now no specific Covid restrictions on attendance and use of the flying field. Members are however encouraged to follow good practice and observe social distancing and hygiene measures on a voluntary basis.
Posted 26th March 2021
Covid-19 Update: Flying field reopens 29th March
We are please to annonce that the club's flying field will re-open to members from Monday 29th March 2021. Revised Covid safety guidelines have been issued to all members and can be found on the Club Documents page of this website. Some restrictions on numbers remain: the maximum number of members at the site at any one time is now capped at 12, and the maximum number of pilots allowed to fly simultaneously is still restricted to 4.
Posted 22nd September 2020
Covid-19 update
In view of recent changes to government guidance on Covid-19, the maximum number of people allowed to be present at the site at any one time is now being restricted to 6, until further notice
Posted 13th July 2020
Covid-19 Update
The Club has now carried out a review of its procedures to protect members and the general public from possible transmission of Covid-19 at our flying site, and as a result we have raised the limit on numbers able to attend the site at any one time to 10. We have also increased the number of pilots allowed in the air simultaneously to 4.
This decision has been based on a formal Risk Assessment, and a copy of this is available to download from the Club Documents page of this website.
All members are asked to observe the following safety measures:
Your decision to attend the flying site is your own and you should assess your own circumstances before deciding to attend the site. You do so at your own risk.
Observe normal social distancing rules at all times, notably the 2m distance rule.
Use of face coverings is not required, as our activity takes place outdoors, but is optional.
Remember that your main purpose in attending is to fly, not to socialise. Try to minimise discussion within the pits area, but do still feel free to seek advice or help whilst still observing social distancing rules.
Use gloves or hand sanitiser when handling the entry gate. At present, while there is no livestock in the fields, the gate can be left open while club members are on the field, but it is important that it is always left closed by the last person to leave
Avoid sharing items of equipment with other club members. If necessary, use disposable gloves and/or hand sanitiser.
The maximum number of members allowed at the site at any one time is 10. If you need to wait at the field for a "slot" to become available, do so by parking on the roadside grass spaces.
Members are encouraged to use the club's "Flying" WhatsApp group to tell others of their intention to attend the flying site, but please note that this is not accessible by everyone and therefore cannot be used to formally reserve flying slots.
Members of the same family or household are still regarded as separate individuals when counting numbers on the flying field, as they each present the same level of risk to other people.
For flight safety reasons, the maximum number of pilots allowed to fly simultaneously is 4. Pilots must stand together in the pilots box so that they can communicate, but each separated by 2m distance.
The clubhouse remains closed except for authorised committee members (eg to use the mower). Make sure you bring your own first aid kit in your car or flight box.
DO NOT ATTEND THE FLYING SITE IF YOU ARE FEELING UNWELL OR IF YOU OR ANY MEMBER OF YOUR HOUSEHOLD HAS POSSIBLE SYMPTOMS OF COVID 19
Posted 16th June 2020
We have increased the number of people allowed at the flying field to a maximum of six at a time. Social distancing must still be observed. To make sure that pilots can still communicate safely whilst flying but standing 2m apart, the number of people flying simultaneously must not exceed 3.
To keep things simple, there is now no booking system. Club members are strongly encouraged to use our WhatsApp messaging group to let others know when they are intending to be at the field as an informal way to keep numbers manageable.
This system has been in place for a couple of weeks now and seems to be working well. But if anyone has problems getting access to the flying field, please contact any of the club committee members and let us know.
Posted 21st May 2020
Flying has now resumed at our flying site, but is restricted to a maximum of 2 people at a time, using pre-booked slots of time. Details of the system have been emailed to all members, but if you have any queries, please contact David Monk, Club Secretary, by email.
Posted 24th March 2020
In view of the new government restrictions announced on 23rd March, flying at our site has had to be suspended until further notice. BMFA have issued an updated statement which can be read here: BMFA Statement on Coronavirus 23rd March 2020
Posted 21st March 2020
MODEL FLYING AND THE COVID-19 VIRUS
BMFA have recently issued guidance about the effect of the virus on model flying activity, which can be viewed in full here: BMFA Statement on Coronavirus
The Club's committee have also considered the issue and decided that flying at our site should continue for the present, unless guidance changes.  Flying out of doors in the fresh air and at a respectable ….at least 6 feet… distance apart does present a very low risk and is a healthy  and useful activity. This view is supported  by NHS and Govt. websites.
Please be sensible  and considerate. Do not share your car ride.
However, it is a matter of personal choice.
Clearly if you feel unwell  and suspect you  may have, or have been exposed to, Covid19, do not go.
And to reiterate the key message from the BMFA statement:
Important note:- Please stay at home and do not attend flying sessions, events, contests or meetings if:
– you have been in contact with a COVID-19 patient
– you are unwell, with a high temperature and/or a new continuous cough
– you have serious underlying health issues
Posted 19th December 2019
LAMMAC MEMBERSHIP LIMIT LIFTED
Following the club AGM on 17th December, we have decided that the temporary membership limit imposed earlier in the year will now be lifted.
The club is now open to new applications, and of course, renewals from existing members.
An updated membership application form for 2020 is available from the "Join us" page.
Posted 1st June 2019
LAMMAC MEMBERSHIP LIMIT REACHED
This is to advise that the membership limit of 50 has now been reached, and the club is full.
A waiting list will operate for anyone interested in joining. Please use the Contact Form to let us know if you want your name adding to this.
Posted 3rd May 2019
LAMMAC MEMBERSHIP LIMIT
This is to advise that the Club Committee have decided it is necessary to set a limit on the total number of LAMMAC members. At present we have 48 members (plus one honorary life member), and we have decided it is in the interests of the club to "cap" membership at 50. This means we have room for just 2 more members this year.
Once the limit of 50 is reached, we will keep a waiting list for new members, but they won't be able to join until after existing members have renewed early next year.
If you know of anyone who is thinking of joining (or rejoining) the club, it might be worth encouraging them to do so as soon as possible, or they might miss out.
Posted 6th November
LAMMAC AGM 2018
The Club will be holding its Annual General Meeting at 7pm on Tuesday 11th December, at the Stork Inn, Conder Green. Sandwiches and chips will be provided.
If you have anything you want on the agenda, please contact the club Secretary, Martin Ireton.
Please attend if at all possible – this is your chance to have a say about the running of the Club. And its a good social event too!
Posted 16th October 2018
Indoor Flying is back!
The club is pleased to announce that it will be running a weekly series of indoor flying sessions again this winter.
Starting Thursday 18th October, it will be held in the gymnasium at Lancaster & Morecambe College, Morecambe Road, Lancaster LA1 2TY. Each session will start at 7:00 pm and run for 2 hours.
Entry fees are £4 per session for LAMMAC members, and £5 for non-members. Or you can save money by paying for 10 weeks in advance at £36.
After the first 10 week run, there will be a short break over Xmas, and (subject to demand) it will run for another 10 weeks in the new year.
Non members are very welcome, but please note you will need to show proof of insurance (ie BMFA membership) to be allowed to fly. However, we may be able to accommodate a small number of beginners if you want to try a "taster" session.
If you want to know more, call in on one of the sessions and ask to speak to the organiser, Chris Edgar. Or contact us by email from this link.
Livestock in flying field
Please could all members note that the farmer is now grazing sheep in the fields around our flying site, over the winter months. Even if sheep are not in our own field when you are there, they are likely to go into it at any time. This means it is essential that we make sure the entry gate to the field is kept closed at all times. Unfortunately, the gate itself is still in bad condition and difficult to move. We are trying to resolve this with the farmer, but in the meantime please bear with us and ask a clubmate to help if necessary.
Posted 27th July 2018
Summer Barbecue – new date – Saturday 4th August
Due to a bad weather forecast, the barbecue is being postponed to 4th August. Same time, 12:00-14:00.
Posted 18th July 2018
Summer Barbecue
Weather permitting, the Club will be holding a barbecue on Saturday 28th July, 12:00-14:00, at the flying field on Jeremy Lane. It would be great if as many members as possible could support this social event combined with some flying: food will be provided (gourmet burgers, sausages and rolls!).
And the food will be free!
All club members are welcome, and it would be really helpful if you could let us know in advance (via WhatsApp or email to John Jenkins) if you are planning to come, as this will help plan the amount of food we need.
It will be carried forward to the following Saturday should the weather be unsuitable.
Many thanks to John Jenkins for agreeing to organise this event for the Club.
Posted 16th June 2018
Website Changes
You may notice some changes have been made to the website. These have been done to simplify the site layout and make it easier to navigate. If you have any comments or suggestions please pass them on to either Mike Shepherd or Peter Sandford.
The basic aim of the changes is to make the site concentrate on two things:
Providing information about the Club for prospective new members
Providing a "library" for club members to access core club documents and BMFA guidance
We'd also like to introduce some new updated photos for the home page. If you have anything you'd like to offer, please pass them on to us.
New Flying Site
The new landing strip in the adjacent field has now been operational for several weeks, and the general consensus seems to be that it is in remarkably good condition given the short period of time we had to prepare it from scratch.
New diagrams showing the layout of the new area for different wind directions have been incorporated in an updated version of the club's Field Safety Rules (downloadable from the Club Documents page) and are reproduced below.
1) Arrangement for East-West wind directions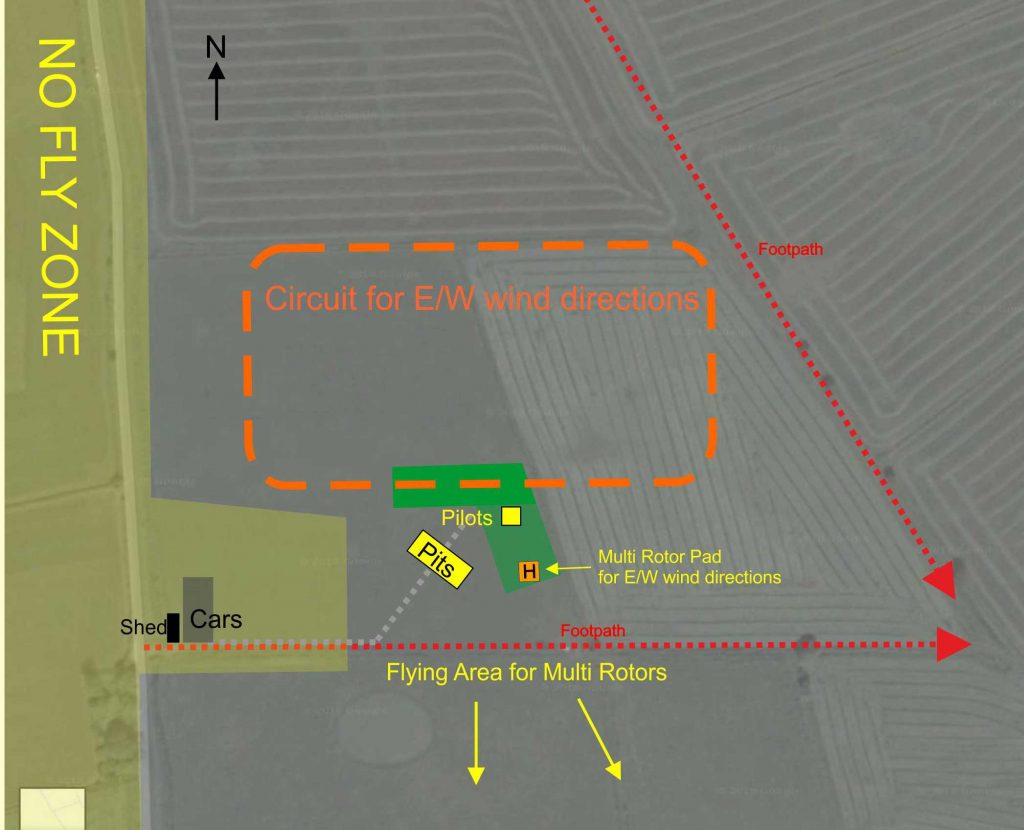 Note that the pilots' box and heli pad occupy the  southern "leg"of the landing strip; multi rotors fly in the field to the south of the main field.
Multi-rotor aircraft must not fly within the orange fixed wing circuit under any circumstances
2) Arrangement for North-South wind directions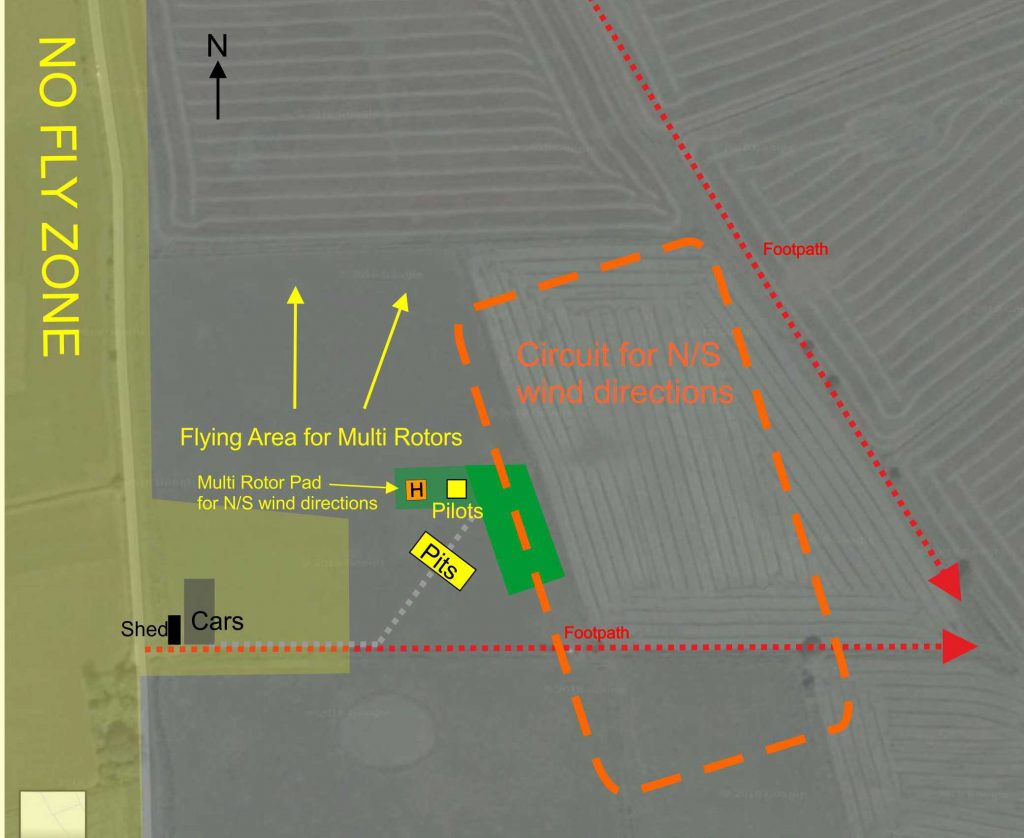 Note that the pilots' box and heli pad are moved to the western leg of the landing strip; and the multi rotor flying area is switched to the northern half of the main field
3) No-Fly Zone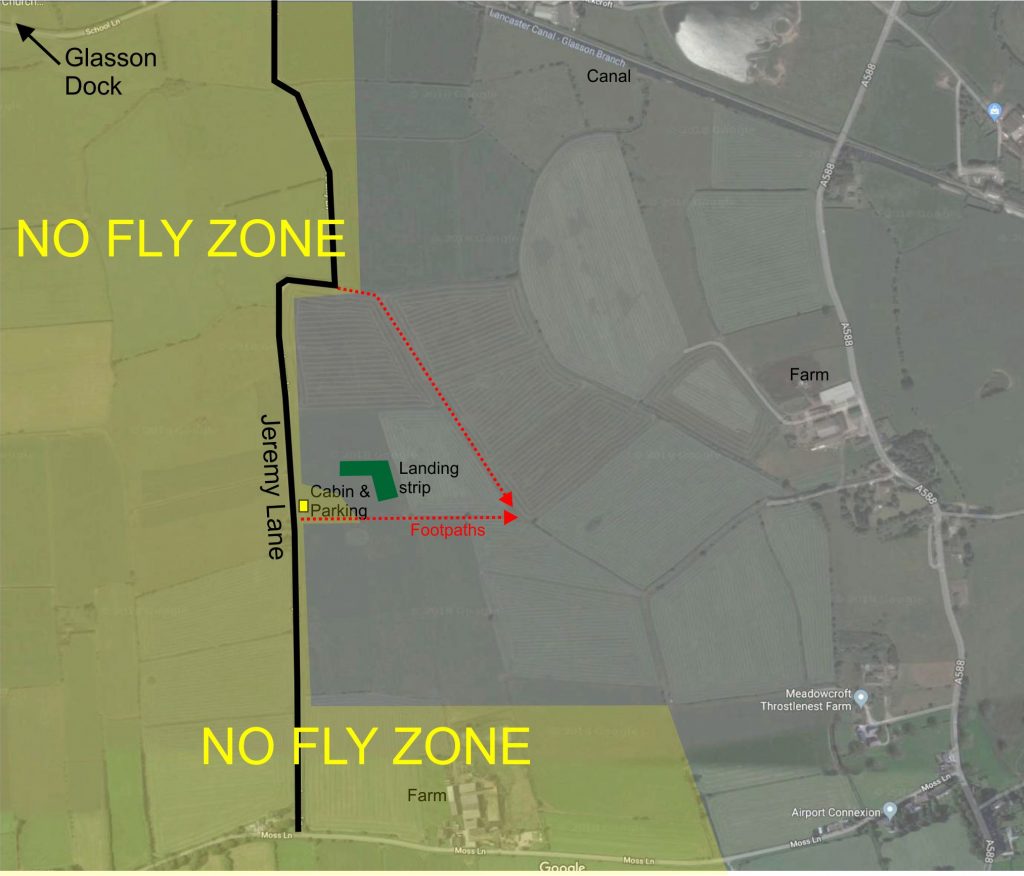 The No-Fly zone covers all land to the west of Jeremy Lane and leading towards Glasson Dock, plus the farm to the south. No flying should take place over Jeremy Lane itself except when necessary for landing into an easterly wind.
Posted 29th April 2018
New LAMMAC Flying Area
A major upgrade is happening, we are moving from our present flying strip to the next door field to the north, there is some final preparation to be done but it will be available in the very near future, meanwhile our old strip is still available so there will be no break in flying activities.
Thanks to Thomas W Leeming for this view from above, using his new Mavic Air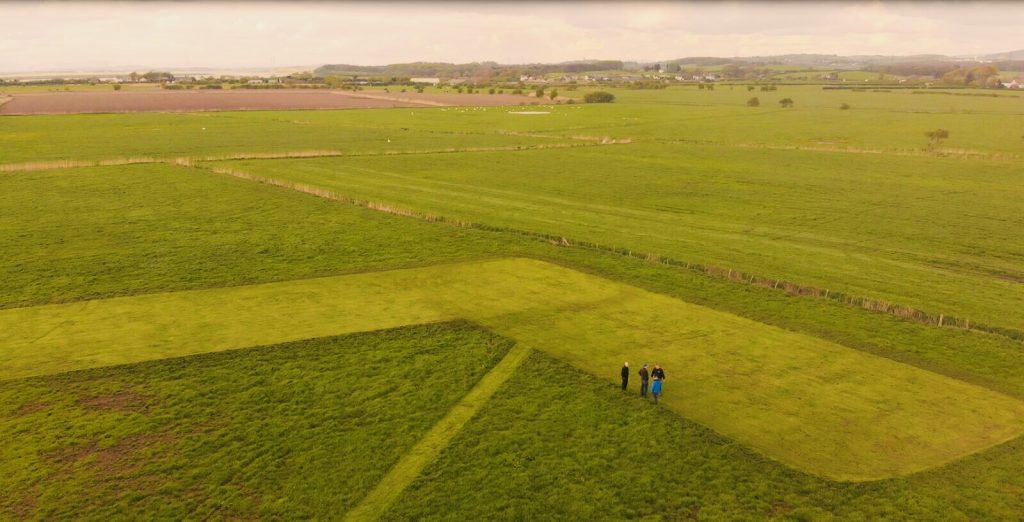 Posted 27th Jan 2018
Welcome to 2018 at LAMMAC, our AGM was held back in Dec 2017, 15 members attended, about a third of the membership, sandwiches and chips were served to all half way through the proceedings, a full report of the Minutes will be distributed in the fullness of time elsewhere. All the past committees were reinstated with the exception of secretary change, Martin Ireton takes over the role.
As we move into 2018 there has not been much activity at the field, the constant inclement weather has taken its toll and prevented any outdoor flying.

indoors however at Lancaster and Morecambe College has continued with a regular support of fliers, consisting of fixed wing and quad flying becoming the norm, it's been refreshing to see a few home made offerings from our members flying and long may that continue. On the quad flying, FPV has been enthusiastically received, a small course is a regular feature and after some experimenting with the video transmitting channels all is going well without channel clashes. Indoor Flying is set to continue on Thursday evenings going forward into March, when hopefully the weather will take pity and let us fly on our field again. 
The winter is always a good time to plan those models for the summer and I've been finding out what's happening at the moment, Martin Smith is building a Chris Foss Wots Wott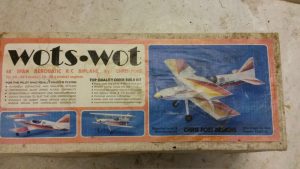 David Collier has several Foamboard models on the go, a Seagull Jumper 25, a small chuckie glider that he's going to covert to power and he's acquired a new DX6 with a tiny indoor plane, look carefully at the picture or you might miss it. 
John Atkinson, Thomas and myself have become intrigued with Autogyros although the flying of them has been very elusive so far, examples of foamy ones called Whippits, are due for test flights as soon as weather permits, larger kits from Sarikhobbies , namely the Autogyro RPG model that comes as a wood pack and has a 1.3m rotor are being constructed by John and myself.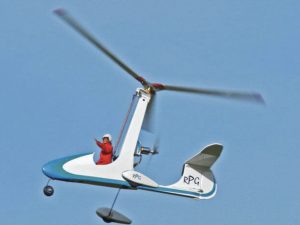 Thomas, John and I are hoping to attend an Autogyro Fly in held during the summer.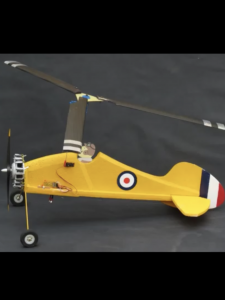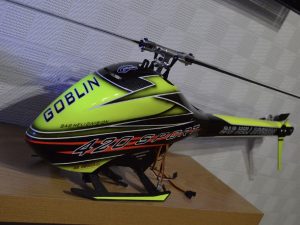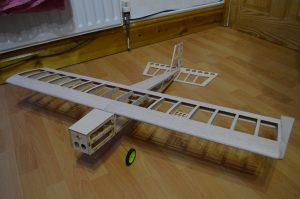 Lewis Wood is on with a Goblin heli and the HK Big Stick, having built up his own Emax Babyhawk Quad from components from Flite Test. Lewis has studied the software programming medium and is quite proficient in Cleanflight, Betaflight and Baseflight that is used on the Flight control boards, indeed his services have been sought by several of our quad enthusiasts, who by the way are looking forward to those days down the field when it could be possible to organise a race or two??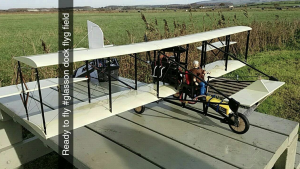 Happy days down down the field.!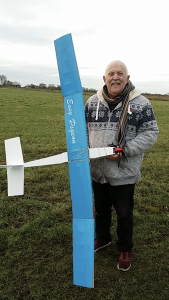 The field is to acquire it second bench at last, older club members might remember Neil Taylor who was very proactive several years ago and brought much to the club before his untimely demise, the donation is in recognition of his much appreciated efforts.
Since the closure of Lancaster Model shop due to retirement there has been a gap in model supplies in this area, this is soon to be rectified however, a new shop is in the process of being born, in Albert Rd Morecambe, Danny Modeland Hobbyworld has finally received planning permission for the shop front, if you're on Facebook, check him out.
We don't realise how fortunate we are up here in the NW, I've put a link on our site to the BMFA NW website, we have the most concentration of clubs in the BMFA, over 130 , in our area, check it out, there are links to all the the clubs, including details of all their scheduled events and activities for the coming year, along with location where they can be found if you're wishing to visit and maybe take part in any events.
Last year the BMFA achievement scheme was agreed to be supported in our club but there wasn't much interest for whatever reason, only one A Cert was awarded, that was me, so it can't be that difficult, the mandatory questions aren't easy to remember but there is an interactive quiz on this website that you can all easily access and Bob, Titch, our club examiners are willing to do demonstrations down the field and take you through the procedure, so practice figure of eight, take off and pass in both directions then land, how difficult is that?.
As you know, Mike Bullen lost his job when Monarch Airlines ceased,
Mike now starts his new employment with virgin Atlantic in March, so we won't see him doing this anymore.
We all wish him all the best.😊
Posted 17th Dec 2017
Department of transport announces commitment to implement new rules for Drones.
Follow the story in our Drone awareness page.
Posted 26th July 17
Walter visited Quadcopters U.K. at Euxton, they have a great stock of quad racing goodies and are the most friendly guys you could wish to meet, they were happy to show him round the premises and their purpose built flying site, indeed Tom Smith the well known international FPV contestant showed off his skills and was happy to pose for the obligatory selfie. A warm welcome was extended to the guys to visit our club in the not too distant future
Walter, clutching his bag of goodies with Tom Smith.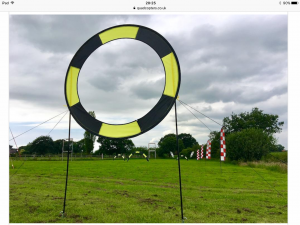 Purpose built race track.
Posted 3rd June 17
Our 2017 season is well under way now, the farmer has cut and collected all the grass from the field, the landing strip has been mowed and rolled and all is looking great. Wednesday has been nominated for our special " Club Night" when we have a good attendance of fliers, visitors are welcome to come along and have a chat and see what we get up to.
.Posted15th May 2017
As you know a number of our club members are interested in Gliders, I have found this excellent reference source on Gliding sites in the U.K.,
Please let us know via our contact page if there is interest in creating a Slope Soaring/ Gliding section within this website
Posted 26th February 2017
on Saturday 25th Feb Five of our club instructors for 2017 attended the BMFA Achievement Workshop at Brighouse, this was an all day event consisting of talks and videos concerning all the relevant information to help instructors and examiners in Model flying clubs promote and assist club members who are considering taking their BPC, A, or B certificates in all disciplines.
For 2017 LAMMAC is actively supporting this initiative and invite members to put themselves forward to achieve the level of at least BPC ( Basic Proficiency Certificate), it must be pointed out that this is just voluntary and we hope that members will seek to obtain a personal achievement goal.
LAMMAC has been registered with the BMFA as a Drone friendly club and indeed the invitation to seek out personal achievement goals are extended to Helis as well as Multirotor fliers.
Further help and information can be found in the "Flying Start" and the " BMFA Acheivement" elsewhere on this website, there are Videos and a quiz option (which includes all the answers) to be able to test out your knowledge of the mandatory questions that are part of the achievement scheme, this could be invaluable for potential club members taking their Certs .
---
          Posted 19th Jan 2017  Flight Fest 2016, Check this out.
Posted 8July 2016
first flight of a Multirotor Drone across the English Channel
Posted 2nd July 2016
I found this early offering from Martin Ireton, some of the longer serving club members might recognise.
Posted 20th April 2016
Weston Park Model Air Show june18th/19th 2016
Have a look at this Compilation from previous Weston Park Model Show.
Posted 11March 2016 
The Flite Test Team, Josh & Austen report on the upcoming Fest this summer, this is how to do it.
Posted Jan 31st 2016
WhatsApp
At least half of club members are using the FREE WhatsApp to communicate and find out whose down or going to the field, download the App onto your smartphone then contact Peter Sandford to be included in the "Flying?" Group, easy!
---
Posted 28th Jan 2016.
Last year, Vulcan Bomber XH558 did its last flight, this was caught on camera by an enthusiast up in Cumbria